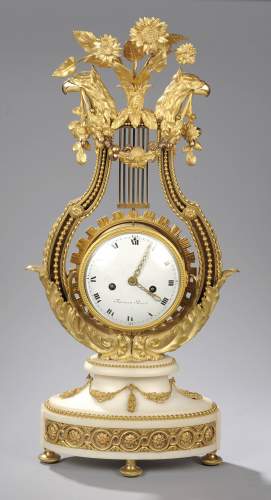 In Paris eighteenth century decorative arts, artisans and artists, especially clockmakers, had to constantly renew the forms and decorations. The Louis XVI period was very rich in models of clocks and sources of influence were varied with the discovery of the ruins of Herculaneum and Pompeii. One of the most popular features in Louis XVI style is undoubtedly the skeleton clock usually in ormolu on an oval white marble base.

La pendule lyre comme son nom l'indique épouse la forme de l'instrument de musique éponyme. Le corps de la pendule copie la structure de l'instrument. Cette partie est généralement en bronze doré, ciselé de guirlandes de perles, feuilles d'acanthe ou branchages feuillagés et parfois fleuris.

En partie haute, la lyre se termine soit par un enroulement, soit par une tète d'aigle. Les tètes ou les enroulements sont fréquemment réunis par un drapé noué, une guirlande de fleurs ou de feuilles.




Pendule lyre en bronze doré et marbre blanc, époque Louis XVI, vente Libert le 3 avril 2006, lot 118.

Elle est surmontée d'un masque féminin rayonnant et pour les modèles les plus prestigieux, d'un amour ou d'un cheval ailé symbolisant pégase.
Le mouvement est suspendu aux cordes de la lyre. De forme circulaire, il est entouré de branchages feuillagés ou d'un motif rayonnant.
Il faut souligner que l'on distingue deux types de pendules lyres :

-celles à mouvement fixe qui comportent sous le mouvement un balancier. C'est le modèle le plus courant.
-celles à mouvement formant balancier, c'est-à-dire que le mouvement est suspendu aux cordes de la lyre et oscille. Ce modèle est particulièrement recherché des amateurs d'horlogerie de part sa rareté et sa complexité. Cela se reflète dans les enchères qui se portent sur ce modèle.

La base est généralement de forme ovale en marbre blanc.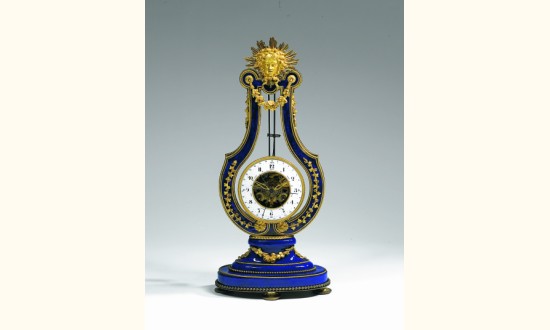 Pendule lyre en porcelaine de Sèvres et bronze doré à mouvement oscillant, fin XVIII-début XIXème, vente Artcurial le 20 juin 2006, lot 210.

Il faut souligner que si ce descriptif correspond à la pendule lyre typique, le XVIIIème siècle s'est plu à varier les modèles. Ainsi on en trouve en marbre et surtout en porcelaine de Sèvres. Les archives de la manufacture nous indiquent une trentaine de livraisons entre 1786 et le début du XIXème siècle.
Souvent bleu foncé dit le beau bleu, elles peuvent pour les plus rares être bleu turquoise et pour rose les plus exceptionnelles.

Le succès de la pendule lyre fut très important sous Louis XVI et cela explique le très grand nombre de copies qui vit le jour durant la seconde moitié du XIXème siècle. Elles se distinguent par la ciselure et la dorure des bronzes, leur cadran et leur mouvement. Il faut également mentionner quelques exemples d'époque Empire et Restauration.

Si les modèles les plus simples peuvent trouver preneur en salle des ventes autour de 2500 euros, les plus belles pendules lyre dépassent les 50000 euros. Il y en a donc pour tous les budgets. En effet, les modèles XIXème commencent autour de 600 euros.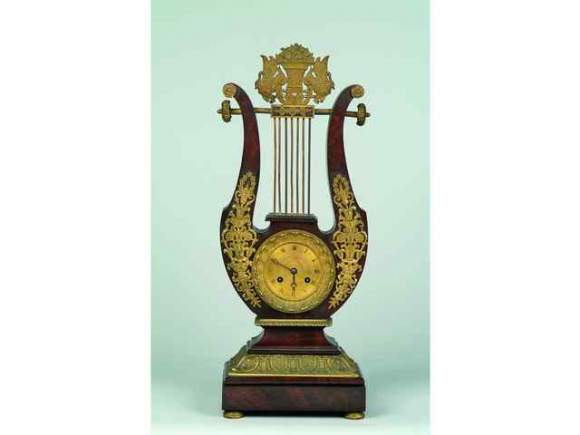 Pendule lyre en bois de placage et bronze doré, époque Charles X, vente Ader le 19 mars 2008, lot 217.

Dédiée à la musique, la pendule lyre est une des pendules les plus gracieuses et les plus typiques du style Louis XVI. Elle doit son succès à son aspect aéré et particulièrement séduisant. Aujourd'hui encore, elles sont recherchées des amateurs et des collectionneurs car elles symbolisent l'art de vivre du XVIIIème siècle avec ses salons et cabinets de musique.

Cédric Henon
Fine Art and Furniture specialist

Illustration principale : pendule lyre en bronze doré sur sa base en marbre blanc, époque Louis XVI, vente Chevau-Légers Enchères Martin-Chausselat le 11 octobre 2009, lot 138.


Laurent Hache and Cedric Henon expertise your bronze, furniture, ceramics, seat or sculpture, for sale, auction, insurance or inventory. You can contact us by phone +44 796 722 3146 or +33 1 40 26 05 46.




Send this article to a friend