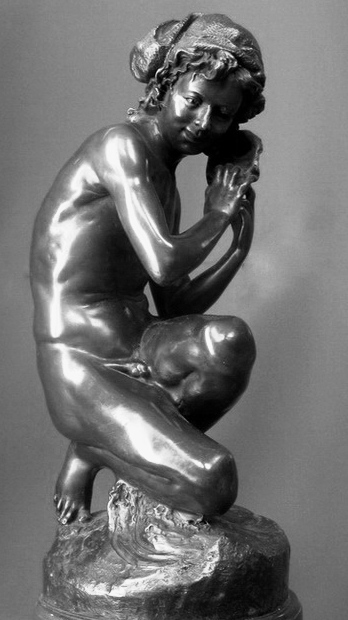 Of all the great sculptors of the second half of the 19th century, Jean-Baptiste Carpeaux is probably one of the best known and his name evokes in the minds of many a sculpture in bronze, marble or terracotta seen at auction, in a gallery, at Drouot or in a museum.
His beginnings
Jean-Baptiste Carpeaux was born in 1827 in Valenciennes in a working class family particularly poor. Son and grandson of a mason, he joined early on as an apprentice to a master plasterer, training applicant to know how to draw, is enrolled in the Academy de Peinture, Sculpture et Architecture in Valenciennes. In 1838 he moved to Paris and took courses at the Ecole Gratuite drawing, also called Petite Ecole, until 1843.

In 1844, he is received, thanks to his talent, at the Ecole National Superieure des Beaux-Arts where he was a pupil of the romantic sculptor François Rude. In 1850, Francisque Duret becomes his master and Carpeaux compete for the Prix de Rome where he received a mention honorable for his Achille blessé au talon. In 1854, his gifts of sculptors are finally recognized and he won the Prix de Rome with a carved group: Hector et son fils Astyanax.
Carpeaux in Italy
Our sculptor stay in Roma was marked by his admiration for Michelangelo and the Sistine Chapel. Carpeaux, unlike his contemporaries spend days on the streets to draw the Italian people.
From this period date some of his most famous sculptures such as Petit Boudeur, Palombella et Pécheur napolitain à la coquille. His works are marked by great freedom of treatment; he breathes life into his sculptures.


As all students of the Villa Medici, he must at the end of his stay of five years make his masterpiece. He realises a group representing Ugolino and his sons punished by famine taken from Dante's Inferno. This group is a tribute to Michelangelo and must acknowledge the force of the drama of this sculpture. Enthusiastically received in Italy, this sculpture was opposed to neoclassical precepts in force in Paris. Cast in bronze by Victor Thiébaut, it was installed in the Tuileries Gardens facing a bronze copy of the Laocoon.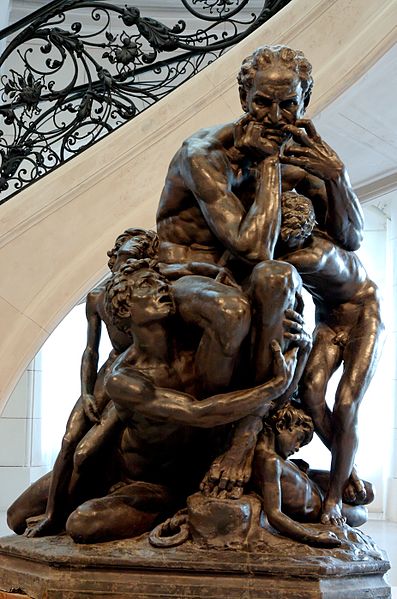 Jean-Baptiste Carpeaux, « Ugolin et ses fils », plâtre patiné, Paris, Musée du Petit Palais
1863-1875, Paris
Following the success of his Ugolino, Carpeaux received many official and private orders. Protected by Princess Mathilde, he carved more than 80 groups, busts and statues.
His monumental works still visible today in Paris include Le Flore Pavilion, the Opera Garnier and the four parts of the world for the fountain of the Observatory.
He also carved numerous figures to be cast in bronze. Let's remember, it is the great period of ornamental bronzes and Barbedienne and Susse Freres work with the best sculptor.


Carpeaux marks a revival of the art of sculpture in France. He forgets the slavish copy of the antiques and put life and instantaneity in his work as the Impressionist in painting. His work announces the great sculptors of the 1900s in particular Rodin.
Cedric Henon: expertise, inventory, insurance.
Each month, we organise auctions of fine continental furniture, antique clocks and works of art with our network of auctioneers. We invite you to contact us if you wish to include lots in our future sale. Valuations are free for auction.
If you need an appraisal for sale, insurance or inheritance, please contact us.
Main picture : After Jean-Baptiste Carpeaux, « Pécheur napolitain à la coquille », bronze, private collection.

Send this article to a friend