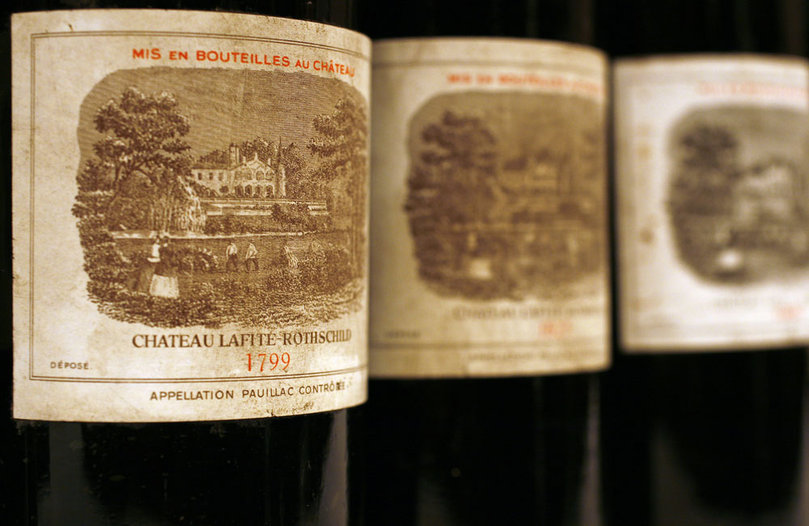 2£ for a bottle of 1974 Montagne Saint-Emilion, 80£ for a 2001 Cote-Rotie, every month many bottles are sold at auction for very good price.

Nul besoin d'attendre la foire aux vins de son caviste préféré pour faire une bonne affaire. Laissez-vous guider par votre instinct, suivez les conseils de l'expert, et commencez à constituer votre cave idéale.

S'informer sur les ventes aux enchères

Pour s'informer sur le planning des ventes, vous pouvez consulter le catalogue des ventes de vins sur Interencheres.com, Drouot.com ou Auction.fr.
Ces ventes aux enchères sont souvent précédées par des journées d'exposition et, de plus en plus souvent, par des soirées de dégustations. Pour y participer, il vous suffit de prendre rendez-vous auprès du commissaire-priseur ou de l'expert.
Une fois votre achat en vue, le jour de la vente, gardez votre calme. Respectez les estimations. Le prix d'un lot de 6 ou de 12 bouteilles ne dépasse généralement pas l'estimation haute.
Sauf bien sûr pour les millésimes les plus prestigieux ! Si les 30 bouteilles de champagne Veuve Cliquot vieilles de plus de 220 ans, retrouvées dans une épave à 55 m de fond début juillet, s'avéraient bien être les bouteilles du roi Louis XVI, les enchères pour un tel lot pourraient facilement dépasser le million d'euros… Si vous êtes le meilleur enchérisseur, n'oubliez pas de rajouter environ 23 % de frais de vente au montant de votre enchère pour connaître le prix total que vous aurez à régler.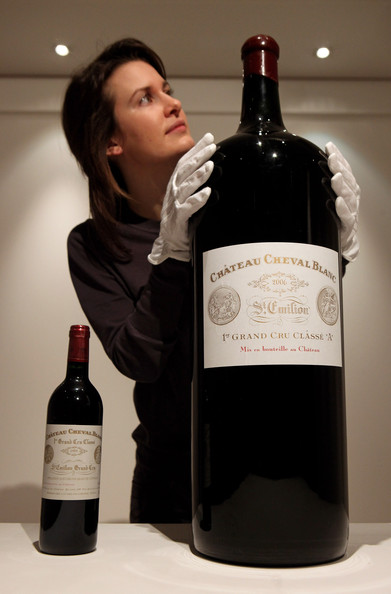 Une bouteille exceptionnelle ! un Melchior Cheval Blanc 1er grand cru classé 1986 a été vendu £16,100 par Sotheby's cette année. A rappeler : le Melchior contient 24 bouteilles de 75 cl, soit 18 litres.

Savoir lire le catalogue de la vente

Dans le catalogue, toute abréviation est d'importance. Avec elle, le prix d'un vin peut être multiplié ou même divisé par 10. De la même façon, une abréviation peut indiquer le risque d'un goût de bouchon. Souvent précisées entre parenthèses après le descriptif général du vin, elles peuvent paraître obscures au non initiés. «T.L.B» ou «E.L.A» par exemple, sont parmi les plus courantes et à connaître absolument.
«T.L.B», très légèrement bas, est une mention décrivant le niveau du vin dans la bouteille. En fonction de la qualité de son conditionnement et de son stockage, le précieux liquide a en effet tendance à vouloir prendre la fuite. Plus il y aura de perte, plus la bouteille perdra de sa valeur.
«E.L.A», étiquette légèrement abimée, sert pour sa part à décrire l'état de conservation de l'étiquette de la bouteille. Une étiquette légèrement abimé sera toujours préférable à une «E.T.A», étiquette très abimée.
Les abréviations changent parfois en fonction de l'expert, retrouvez-les dans les conditions générales de la vente ou consultez l'expert.


Heureux(se) propriétaire, vous devez manipuler et conserver vos bouteilles avec attention. Certaines peuvent s'avérer de très bons investissements : leurs prix peuvent être multipliés par 2 en 5 ans. Choisissez enfin le bon moment pour en partager une entre amis et n'oubliez pas: à consommer avec modération !


Laurent Hache


Cedric Henon and Laurent Hache expertise your bronze, furniture, ceramics, seat or sculpture, for sale, auction, insurance or inventory. You can contact us by phone +44 796 722 3146 or +33 1 40 26 05 46.




Send this article to a friend