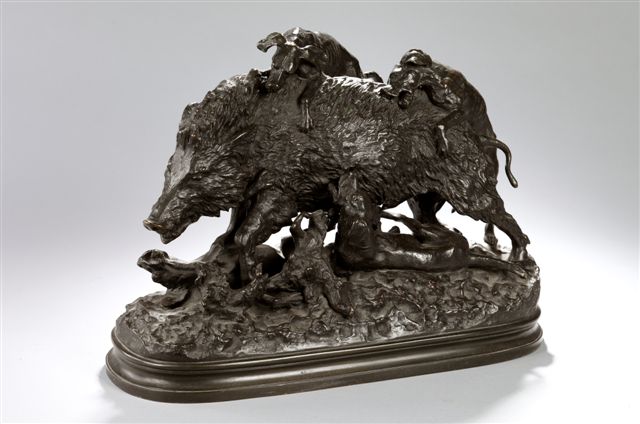 Our auction on the 1st May will present many old master and modern paintings, continental furniture and works of art with low estimation. We selected five large wild boar bronzes


Deux épreuves d'après Fratin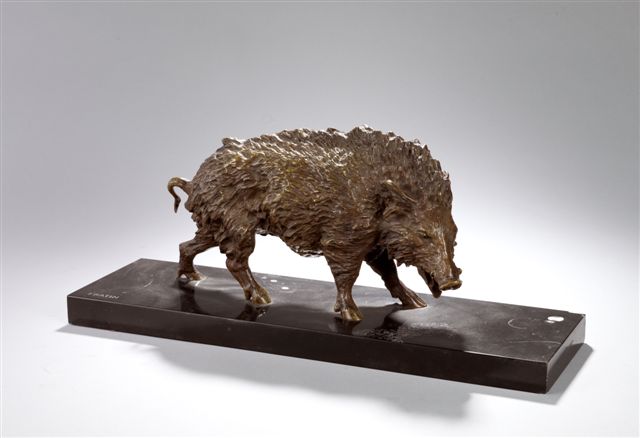 Sous les numéros 135 et 136 vous trouverez « Sanglier » et « Sanglier attaqué par la meute », deux épreuves en bronze patiné d'après l'œuvre de Christophe Fratin (Metz 1801-Le Raincy 1864) qui fut le principal rival de Barye et l'un des plus importants sculpteurs animaliers. Ces deux bronzes qui sont des épreuves modernes se distinguent par leurs dimensions particulièrement importantes, le premier mesurant 50 cm de long et 44 cm pour le second. Il est à noter que les estimations sont abordables, 700 à 1000 pour le 135 et 3000 à 5000 pour le 136. Le lot 136 est remarquable par la vie et la force qui se dégage de cette sculpture dans laquelle les chiens attaquent le sanglier.

Des sangliers toujours par Fiot et Susse Frères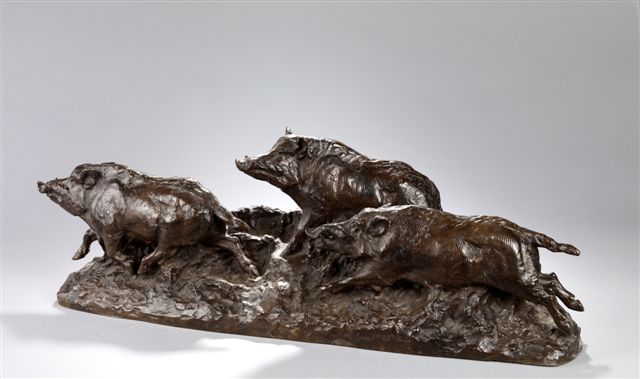 Louis-Maximilien Fiot (1886-1953) est un sculpteur français de la première moitié du XXème siècle, élève de Prosper Lecourtier, il expose régulièrement au Salon des artistes français où il fut médaillé en 1911 et 1923. Beaucoup de ses sculptures furent exécutées en bronze par les frères Susse dont la fonderie est toujours en activité.
Sous les numéros 138 et 139, on retrouve notre sculpteur et son fondeur Susse Frères dans deux importantes épreuves anciennes représentant « La harde » et « Deux sangliers ». Ici encore il faut souligner les dimensions de ces deux grandes épreuves en bronzes, 77 cm pour le 138 et 74 cm pour le 139. Les bronzes animaliers de cette dimension sont rares et le sujet de chacune des épreuves séduisant. Il faut souligner que la fonderie Susse est réputée pour la qualité de ses bronzes.
Le 138 est attendu autour de 4000 à 6000 euros et le 139 autour de 3500 à 5000 euros.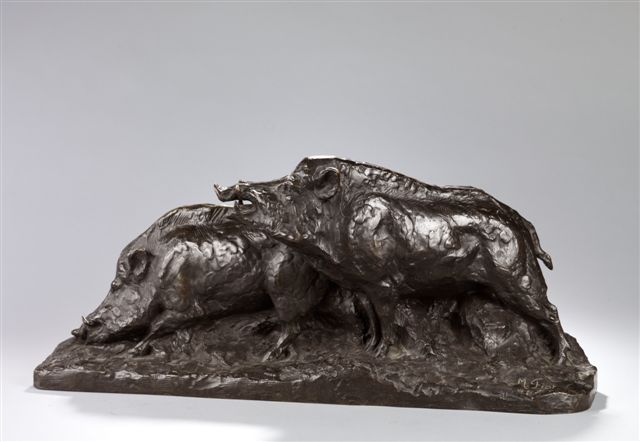 Georges Gardet

Le dernier bronze animalier, lot 142, présent dans cette vente aux enchères est l'œuvre de Georges Gardet (1863-1939), sculpteur français qui fut élève d'Emmanuel Frémiet. Notre bronze à patine brun-vert intitulé « Laie et ses deux petits » mesure 74 cm de long et a été fondu par la maison Barbedienne qui est l'un des principaux fondeurs de bronzes d'art du XIXème et de la première moitié du XXème siècle. Cette épreuve est estimée 2500 à 4000 euros et devrait séduire de nombreux chasseurs et amateurs de sujets cynégétiques.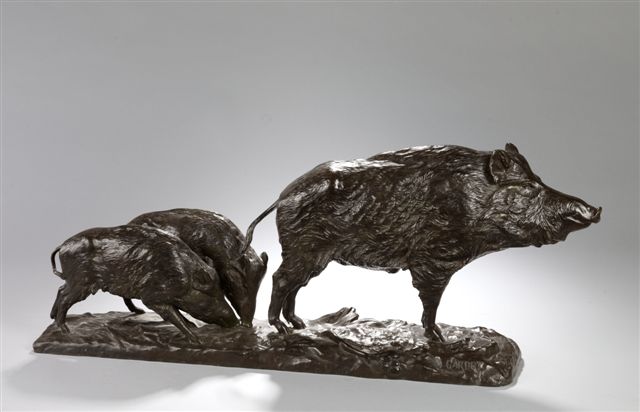 N'hésitez pas à consulter gratuitement le catalogue complet de la vente en cliquant ICI


Informations pratiques
Date de vente : samedi 1er mai 2010 à 14h30
Exposition : vendredi 30 avril de 12h à 19h / samedi 1er mai de 10h30 à 12h00
Adresse : Domaine de La Fontaine, 1379 rue de la Reine Blanche, 45160 Olivet.
Maison de ventes : Philocale, Maitre Semont, commissaire priseur habilité.
Cedric Henon, furniture and works of art specialist will be present, do not hesitate to contact him if you request a condition report.



Send this article to a friend