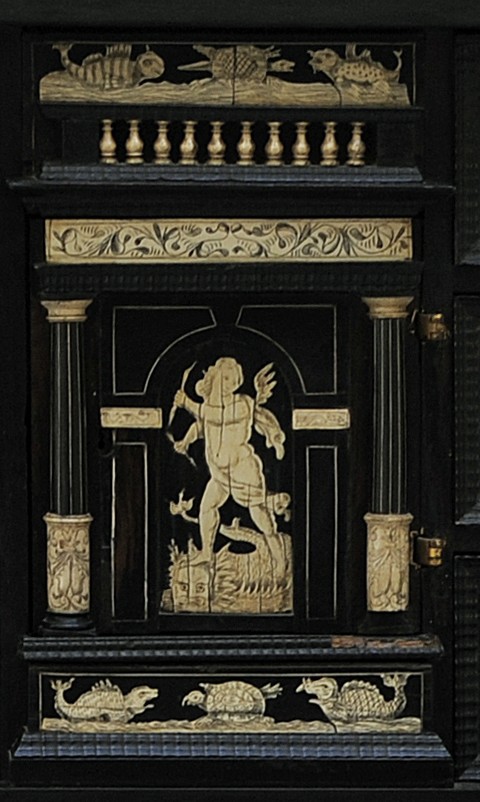 Our auction on the 22nd April will present many books, prints, drawings and old master paintings, continental furniture and works of art with low estimation. We selected few of them for you.


Un cabinet dans le style du XVIIe

Le cabinet est le meuble le plus en vogue au XVIIe. Siècle. A y regarder de plus près on peut constater que tous les notables des règnes de Louis XIII et de Louis XIV en possédaient au moins un dans leur collection. Destiné à ranger les biens les plus précieux (or, argent, joyaux et autres «papiers d'importance »), le meuble possède de nombreux tiroirs et secrets...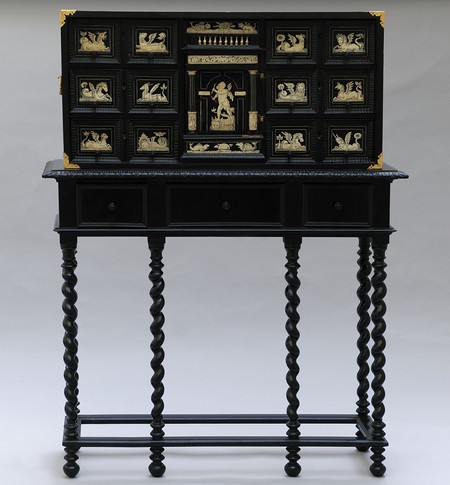 Mais il n'y a pas que son contenu qui soit riche, il y a son décor. Dans notre exemple (lot 171), le décor est réalisé à partir de matières exotiques et rares. Caractéristique des productions italiennes mais également allemandes, il est fait d'ébène et de plaquettes en ivoire gravé à sujets d'animaux fantastiques.
Au centre de sa façade sur la partie appelée le tabernacle, vous pourrez y voir un Cupidon piétinant un monstre, c'est ici la représentation du triomphe de l'Amour.

Les enchères débuteront à 1 800 € pour ce cabinet proposé à la vente sur un très beau piètement en bois noirci. Ce meuble pourrait être un très bon investissement à long terme. Le marché est au ralenti, il faut en profiter.

Une rare paire de consoles Louis XV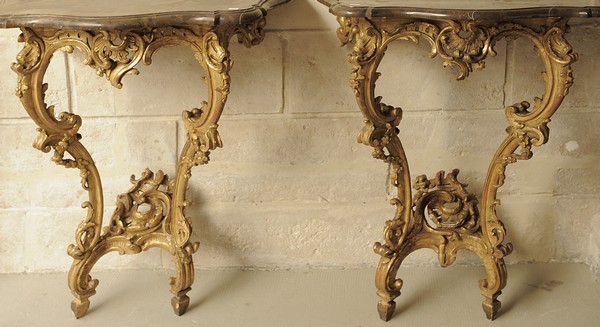 Les consoles sont souvent nées en paire ou en suite car leur forme et leur décor se répondant, elles viennent harmoniser la pièce où elles se trouvent. Aujourd'hui les paires de consoles d'époque sont devenues très rares. Une des raisons qui explique cette rareté, est la manière dont sont généralement gérées les successions car les paires sont partagées entre les héritiers et seront donc souvent vendues séparément, d'où une décote importante. Un conseil : ne « casser » jamais une paire de meubles ou d'objets.

Nos consoles sont caractéristiques de l'époque Louis XV. Leur ligne générale est faite de courbe et de contre courbe. Leur décor sculpté est de type rocaille déchiqueté, ce qui laisse à penser qu'elles furent réalisées entre 1740 et 1750.

Estimé 3 000 € à 5 000 €, il ne serait pas surprenant de voir le prix du lot 168 s'élever au delà de la barre des 10 000 €. Le futur acquéreur devra envisager en sus une légère restauration de l'ensemble. Il pourra faire adapter les marbres anciens vendus avec.

Le service en cristal de Monsieur Félix Adam





Les services de verre en cristal sont rares. Dans ces services, plus le nombre de pièces est important, le décor « fouillé », plus était important son ancien commanditaire.

Notre service fut réalisé pour Monsieur Félix Adam, un important banquier de Boulogne-sur-Mer de la fin du XIXème et du début du XXème siècle. Son décor est à la hauteur de son commanditaire de prestige. Le cristal est richement gravé d'animaux (cerf, chien, oiseau) et de châteaux sur fond feuillagé à rinceaux fleuris.

Le nombre de pièce est important et la qualité de son décor joue en sa faveur. Le lot 156 (en partie représenté sur l'illustration) sera mis aux enchères à 1200 €.
Ce service plaira certainement aux collectionneurs d'objets d'art de grande qualité mais aussi aux collectionneurs de verre ancien ou du thème de la chasse. Ce lot peut également être acquis par un musée des arts décoratifs du Pas de Calais ou du Nord de la France.


You can download our catalogue download


Informations pratiques :

Date de vente : jeudi 22 avril 2010 à 14h00
Exposition : mercredi 21 avril de 10h30 à 18h30 / jeudi 22 avril de 10h30 à 12h00
Adresse : salle Rossini, 7 rue Rossini, Paris 9ème.
Maison de ventes : Art Valorem
En savoir plus : www.art-valorem.fr
Expert en mobilier et objets d'art ancien: M. Laurent Hache, Cabinet Authenticité.
If you request a condition report for any lot in this sale do not hesitate to contact us.



Send this article to a friend